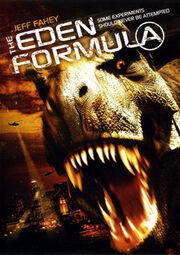 The Eden Formula
, also known as
Tyrannosaurus Wrecks
is a 2006 television B-movie using footage from
Carnosaur
. It was written and directed by John Carl Buechler for SyFy.
When industry spies break into a top secret lab at Calgorin industries, they accidentlaly let a T-Rex loose, which wreaks havoc into the lab before breaking out into the streets of Los Angeles.
Jeff Fahey as Dr. Harrison Parker
Tonny Todd as James Radcliffe
Dee Wallace as Rhonda Shapton
Production
Edit
The Eden Formula was filmed at California, in the United States
Relation to the Carnosaur Series
Edit
The movie is strongly connected to the carnosaur films mostly for using recycled footage of the T-Rex in the two first movies of the series.
Home Media
Edit
The Eden Formula was released on DVD on February 20, 2007.
The reviews were mostly negative, due to the dinosaur being a puppet.The movie is taunted on many websites about the quality, and is often considered as one of the worst SyFy channel films of all time.
Ad blocker interference detected!
Wikia is a free-to-use site that makes money from advertising. We have a modified experience for viewers using ad blockers

Wikia is not accessible if you've made further modifications. Remove the custom ad blocker rule(s) and the page will load as expected.